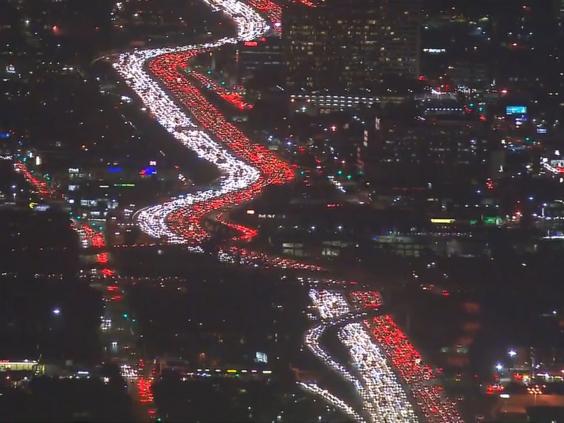 Incredible aerial footage has shown kilometers of gridlocked traffic in the Los Angeles area on the 405 motorway, one of the busiest routes in the United States. Seriously. What could be worse?
Earlier this year 12 people died during a massive three-day traffic jam in Indonesia that stretched more than 20 kilometers and brought thousands of holidaymakers to a complete standstill.
The gridlock on the Interstate 405 in Los Angeles - one of the busiest routes in the US - was filmed by KABC-TV as millions of Americans travel over the holidays.
The stunning spectacle has drawn numerous comparisons on social media.
According to AAA, almost 49 million people are expected to travel 50 miles or more between Wednesday and Sunday.
"Most will travel on the tried and true holiday road trip, thanks to gas prices that are holding at close to $2 per gallon. Others will fly, take the bus or set off on a cruise to celebrate with their loved ones", said AAA President and CEO Marshall Doney.